[ Posted Thursday, September 25th, 2008 – 15:56 UTC ]
Although it has required an almost unbearable amount of restraint, I am not going to comment on John McCain's political grandstanding today. I'll get to it tomorrow, I promise.
Instead, we have the return of our in-house cartoonist! While it may have appeared to the public that CWCunningham was in an undisclosed location these past few months, he and I were actually colloborating on a video, in an effort to get (you can't make this stuff up) a liberal lobbying firm on K Street interested in our idea. But, sadly, it came to naught. But this week's financial meltdown proved to be too hard for him to resist, so we proudly present his take on the situation.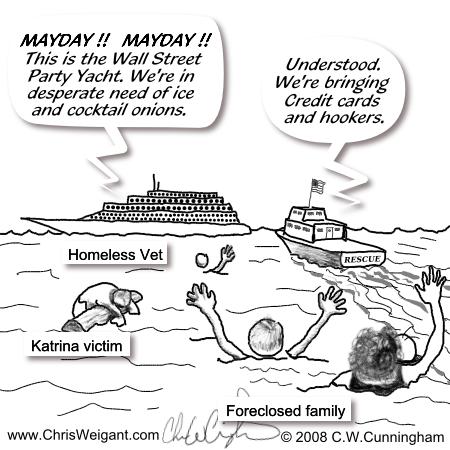 About the Cartoonist | Reprint Policy
After admitting earlier this week that understanding the national economy is beyond me, I have decided that if Sarah Palin can be seen as a serious candidate for vice president, then I can be seen as a serious economist. So, in no particular order, here are my ideas for fixing the American economic system:
Money for nothin', Checks for free
Since Bush's minions have come up with the gargantuan figure of $700 billion for the bailout, I propose instead that we take that amount of money and send it to every man, woman, and child in America.
Obviously, the federal government can make this amount of money appear by snapping its fingers, so let's take it and do some real good with it instead. Divided out, this would come to around $2,300 each. A family of four would get a $9,200 check from Uncle Sam. You know what the effect this would have on the markets? Well, just about every single foreclosure would stop, since the first thing people would do with the money is pay their mortgage. The "junk" mortgages would suddenly become a lot more sound, and we would avoid the "Great Depression" scenario.
It might work, it might not, but I bet this plan would get more public support than taking the same amount of money and shoveling it to the same people who got us into this mess on Wall Street.
CEO pay = minimum wage
If that's not acceptable, I have a suggestion for a new law. Chief Executive Officers of every American company must accept nothing more than minimum wage. They can get stock options on top of this, so that if the company does well under their leadership, they will still profit handsomely. But if the company goes south, then they wind up working for what the janitor does. Let's see how they survive on what millions of Americans make.
Again, if the company does well, they still get millions. If the company does not do well, they get minimum wage, and that's it.
I bet that this plan, too, would be wildly popular with voters.
The Wanda Sykes Public Housing plan
Wanda Sykes is a comedian. Or, put less politically correct, a comedienne. However you say it, she's a scream to listen to. And she unloaded both barrels during her recent appearance on Jay Leno.
Her idea is simple. All these Wall Street guys and gals who made out like bandits should pay. We'll start with their mortgages, and sell them to the government. Since the government would own their house (something they'd have to agree to or they would be out of a job), treat them like any residents of public housing. Make them take drug tests, and kick them out if they test positive. Let them have to line up to get their paychecks from the government. Which could only be cashed "in the check-cashing place by the liquor store." Declare all their swimming pools public, so anyone could come over for a dip.
I'm paraphrasing her words as I don't have a transcript. Watch the clip for yourself to get the idea (her whole appearance was hilarious). [The Huffington Post has a partial transcript and clip, NBC also has a partial clip (this may in fact be the same clip), and The Tonight Show site assumably has the whole thing up there somewhere, but I had minor problems with their site, so can't post a link directly to the full video, sorry.]
Once again, I would be willing to bet $700 billion that this plan would gain wide, almost-universal acceptance from American voters.
I guess this "being an economist" stuff is easier than I thought...
Feel free to share your ideas in the comments.
-- Chris Weigant