[ Posted Tuesday, July 24th, 2007 – 12:12 UTC ]
It seems that events have conspired to make this "new features" week (or perhaps "multimedia" week) on ChrisWeigant.com.
To kick this off, I am featuring our very first original political cartoon. I was emailed a few cartoons by a blog reader, and will be running a few of them over the coming days as an experiment. Please feel free to post your comments to let me and the artist know what you think.
I've included the short bio the artist wrote for himself after the cartoon. He's a guy that draws these for fun, and he sent them to me to see if I could use them. I must admit, having original political cartoons on my site is an intriguing idea to me, so we'll see how it goes for a while.
The first of these could have been drawn right after Bush took office, or it could have been used during the recent White House spin job on the Libby commutation. In other words, it has kind of a timeless quality to it.
Anyway, here's the debut cartoon from Charles W. Cunningham: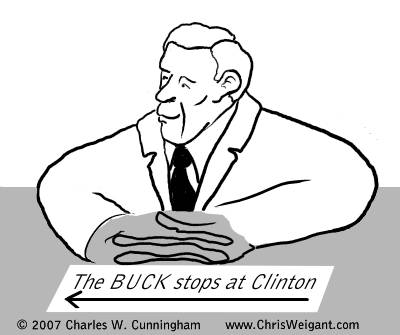 About the Cartoonist | Reprint Policy
About the Cartoonist
Doctor Dentist Daniel David Duck, world renowned neurosurgeon and part-time janitor, made his first million removing teeth from the rich and selling them to the poor. Due to a minor misunderstanding over whether a bicuspid can be fitted with disc brakes, he's had to retire from his janitorial duties and devote himself part time to cartooning. He hopes someday to become an artist.
But seriously, My name is Charles W. Cunningham, unemployed, likely unemployable, and I draw these things for nothing more than the hope I might make you laugh. I encourage you to copy and distribute them freely on the condition that you leave the copyright and reference to www.ChrisWeigant.com intact. If you are posting onto a blog or webpage, I ask that you provide a link back to this site. Come back and get more, I'll crank 'em out as they come to me.
As I say, if I can make you laugh, you've made my day, but the real magic of this site is in Chris' writings. You'll find him well read, well considered and well worth reading, so come for the laughs, but stay for the magic.
-- Charles W. Cunningham